2013 Hyundai Veloster Turbo: An Incomplete Performance Package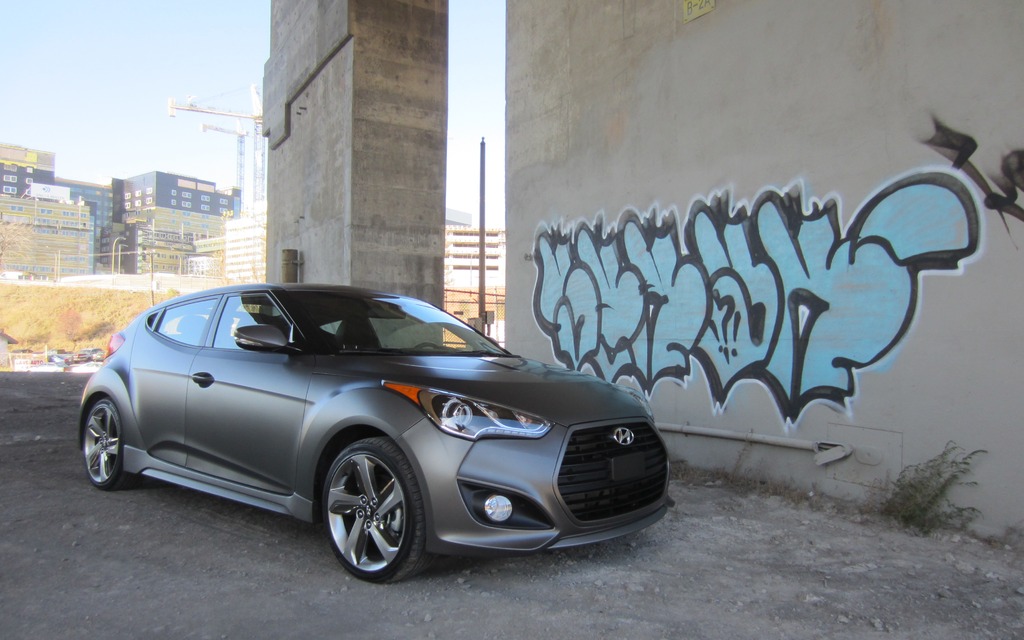 Strong points

Eye-grabbing design
Well-tuned chassis
Excellent interior styling
Affordable price

Weak points

Unusable rear seat for adult passengers
Throttle tuning that kills turbo engine's performance
Somewhat balky shifter feel
Full report
The 2013 Hyundai Veloster Turbo is an exciting entry into the compact performance sphere. The plucky little hatchback is daring in more ways than one: it boasts an unusual exterior design, features the availability of options previously restricted to the aftermarket, and provides a purchase price that is competitive with most of its rivals. It's also a significant statement from Hyundai that says it is willing to take risks in order to expand its market share, which means exploiting product niches that would have been unthinkable for the brand just a few short years ago.
Two Plus One
The first thing most people notice about the 2013 Hyundai Veloster Turbo is its imbalance when it comes to the number of doors. The driver's side features a single, long door giving the car an almost coupe feel, while the passenger's side comes with a pair of doors designed to make it that much easier to slide into the Veloster Turbo's rear seats. Combined with the hyper-aggressive array of hard lines, bulging fenders, and enormous front grille that make up the Hyundai's first impression (as well as its split rear glass and center-exit exhaust), this nod to practicality only adds to the singular nature of the Veloster Turbo's personality. It also gets people talking, which is music to the ears of PR staff working overtime to build buzz around a brand-new model.
Of course, the flat gray paint job on our Veloster Turbo test vehicle also attracted significant attention, as this feature is more often seen on the convention floor at SEMA rather than sitting inside a dealer's showroom. The finish looks great, but it's not easy to take care of - forget cleaning snow off with a traditional brush if you don't want to mark it up beyond repair. If you order this option with the Turbo (to the tune of $1000) you're going to have to make concessions to keeping it looking its best, which means following Hyundai's provided care guidelines.
Comfy But Cramped Interior
The 2013 Hyundai Veloster Turbo comes nicely equipped right out of the box, as the vehicle represents the apex of the Veloster lineup. This means a navigation system, leather seats (with heaters), Bluetooth connectivity, and a snazzy center-mounted push button start are all standard. Hyundai's attention to detail in the Veloster's cockpit includes blocky but somehow perfect square door pulls that stick up like plastic wings from the interior panels, a nice set of gauges, and buttons and dials that are well weighted and hewn from plastics that seem a cut above the Veloster Turbo's pay grade.
The rear seat, unfortunately, simply isn't usable for adult passengers. This is because the Hyundai's roofline slopes down to the point where head contact with the roof is almost unavoidable while riding in the rear. We did like the amount of cargo room available with the hatchback, however, and the second door was useful for getting at the items we had stacked in the back.
Lamentable Throttle Tuning
The 2013 Hyundai Veloster Turbo is designed to quicken the pulse and provide compact car shoppers with a chance to drive something a little more spirited than the standard affordable fare. To this end, the Veloster Turbo benefits from the installation of a 1.6-liter, direct-injection four-cylinder engine that makes use of a turbocharger to generate 201 horsepower and 195 lb-ft of torque. A six-speed manual transmission was installed in the vehicle we drove for a week, but a six-speed automatic is also available as an option. In addition to offering eyebrow-raising power, the small four-cylinder also delivers 7.1 l/100 km in combined fuel mileage.
Unfortunately for Hyundai, the Veloster Turbo doesn't deliver when it comes to the performance promise of its spec sheet. Yes, the Veloster Turbo feels confident enough when driving through urban traffic, but flooring the gas pedal reveals the motor's more industrial character. Fun is also interrupted by throttle programming that doesn't allow for a quick power on after shifting gears, causing the engine to lose revs and stutter its way through the first three gears when traction control is switched on. Turning it off makes things a little more bearable, but the lack of smooth power delivery is a problem that significantly impacts the sporty nature of the hatchback.
This is really too bad, as we were enamored of the Veloster Turbo's chassis - one that provides perhaps the most engaging handling of any front-wheel drive Hyundai automobile. We would have liked a bit more steering feel, but the suspension was tuned to the point where we took great joy in darting from one corner to another in the Veloster Turbo when we weren't cursing the gas pedal's reluctance to let the engine come along for the ride, too.
An Incomplete Package
The 2013 Hyundai Veloster Turbo has almost everything it takes to make an impact in the sport compact performance scene: fantastic looks (perhaps the sexist hatchback in its class), a well-done interior, a platform that loves to handle, and a quirky design that has passersby doing double takes. What it doesn't offer is a drivetrain that feels like it's ready for prime time. Power without refinement is ultimately not usable on a daily basis - and certainly not on twisty country road - and this is doubly true for peaky small displacement turbocharged engines. We would love for Hyundai to fulfill the promise of the Veloster Turbo by giving it a motor that is willing to play with us instead of fight against the collective efforts of our right feet.
Share on Facebook