2012 Volvo S60 T6 AWD R-Design - Swedish Beauty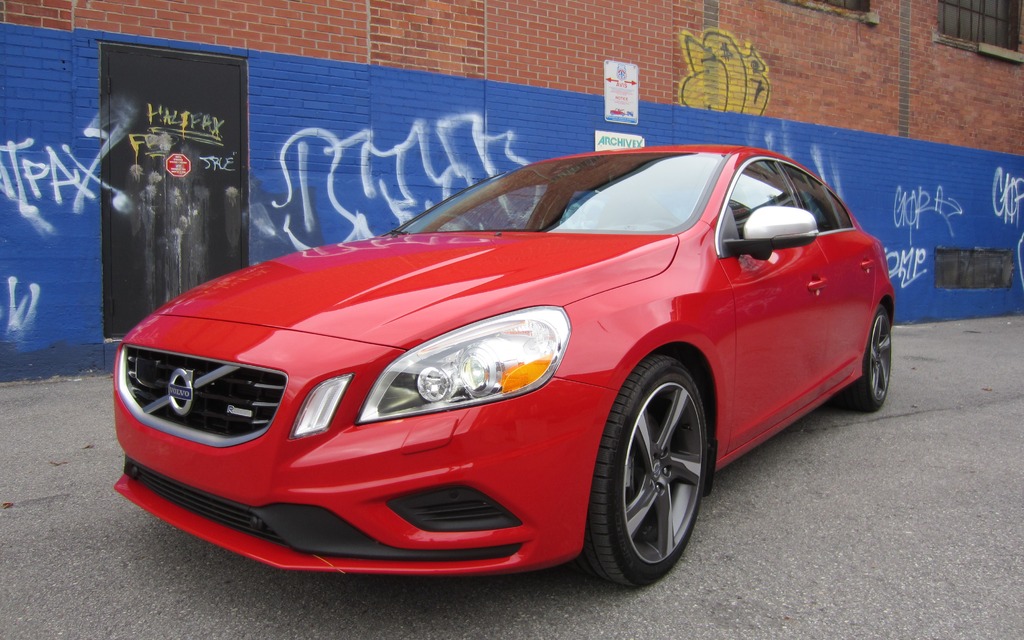 Strong points

Beautiful styling
Powerful turbocharged engine
Useful all-wheel drive
Advanced safety features

Weak points

Too many safety warnings can be distracting
Somewhat retro dashboard
Handling compromised by sedan's weight
Full report
The Volvo brand used to be synonymous with safety, but to the current generation of car buyers whose memories aren't filled with images of boxy wagons and upright sedans there is little to distinguish the Swedish car company from any other European car company making a play for their premium dollars. Enter the 2012 Volvo S60 T6 AWD R-Design, the priciest, best-equipped version of Volvo's entry-level sedan and a car that the company has pegged as a game changer for their image in North America.
The Volvo S60 T6 AWD R-Design does a lot of things right, and it's certainly a thousand miles away from the stodgy Volvo sedans of old. Does it have what it takes, however, to dislodge the vision of Teutonic supremacy that BMW, Audi, and Mercedes-Benz have managed to firmly imprint on the minds of status-seeking shoppers?
Beautiful By Any Measure
It helps that the 2012 Volvo S60 T6 AWD R-Design is the most attractive vehicle in the company's stable, edging out even the XC60 crossover and C30 hatchback in terms of grace and visual panache. Sharply-edged and purposefully-pointed, the R-Design model indicates that Scandinavian stylists are capable of cutting loose within the confines of the Volvo playbook in order to produce a vehicle that appears both prestigious and sporty.
Opening the driver's door to the S60's passenger compartment engenders somewhat of a letdown, however. Yes, the vehicle's leather-appointed seats are superb, and we like the intuitive knobs and pictogram interface for the stereo system and heating and cooling controls, but what's with the vast expanses of flat, unadorned space that dominate the dash? And why is there a huge numeric touchpad sitting in the middle of the vehicle's center stack? Is the S60 T6 AWD R-Design expecting a phone call from 2001? The sedan's voice command system makes this throwback feature even more redundant, and together these miscues keep the otherwise well-trimmed interior from receiving top marks.
Quick On The Draw
Aside from its sultry styling, perhaps our favourite aspect of the S60 R-Design was the turbocharged six-cylinder engine sitting underneath its sleek hood. Displacing 3.0-liters, the twin-scroll-equipped unit spoiled us with its 325 horses and 354 lb-ft of twist, sent to the pavement through a six-speed automatic transmission and a torque-vectoring all-wheel drive system. The S60 leapt off of the line with gusto, snagging 100 km/h in just a few ticks over five seconds, and we were also impressed with the engine's ability to deliver power almost anywhere in the rpm range. The vehicle's Sport mode was difficult to master - we kept lurching forward due to the extremely sensitive throttle setting that appeared once the tranny was shifted into S - but even when left in Drive the R-Design was prepared to give us its all at a moment's notice.
Dynamically, the S60 is betrayed by its curb weight. Checking in at over 1700 kilos, the R-Design model's sport suspension system and re-valved shock absorbers couldn't mask its portliness, which translated into cornering that was commendable, but not sporty. We were far happier to enjoy the T6 AWD R-Design's comfortable ride and confident acceleration without subjecting it to the kind of vigorous steering inputs we might have been tempted to cut loose in a true sport sedan. One thing is certain: when the cold weather comes and the snow starts to fly, the S60's all-wheel drive system will be an excellent companion on treacherous roads.
Safety, Thy Name Is Volvo
In recognition of the fact that safety gadgets of every description have proliferated throughout the automotive industry as fast as they can be stuffed into MSRP-boosting options packages, Volvo has had to step up its game in what was once its trademark competency. The S60 is packed to the gills with active safety features, including blind spot monitoring, lane departure warning, parking assistance, and adaptive cruise control with automatic braking. Volvo goes above and beyond with its City Safety system and its Pedestrian Detection feature, which work together to automatically stop the car in the event that an impact with a pedestrian or other obstacle is detected at lower speeds.
All told, the Volvo S60's cabin is filled with beeps, flashing lights, and other visual warnings that can at times cross the line from helpful to distracting. Yes, many of these features can be disabled either by pushing a button on the center stack or by moving through the sedan's onscreen menus, but we can't help but wonder if Volvo's attempt to keep us ensconced in such a protective cocoon has tipped over to the point where it is having the opposite effect. In fact, after a week spent with the S60 R-Design, a few of our drivers experience what might best be described as 'safety system shell shock,' cringing in expectation of a computer-generated reprimand each time they tried to park too close to a retaining wall or immobile automobile.
Luxury With A Dash Of Performance
The 2012 Volvo S60 T6 AWD R-Design is a comfortable, fast, and easy-on-the-eyes entry into the premium sedan segment. No, it won't deliver cornering thrills like some of its competitors, and yes, its dashboard can come across as being strangely dated, but as an overall package the S60 is a pleasure to drive within its generous limits and its safety gear is in a class of its own. Not everyone wants to park a German car in their driveway, and Volvo's R-Design trim offers an interesting alternative to escaping the lock-step march of conformity that has long defined the European premium segment.
Share on Facebook