2012 BMW M5: A monster with a taste for luxury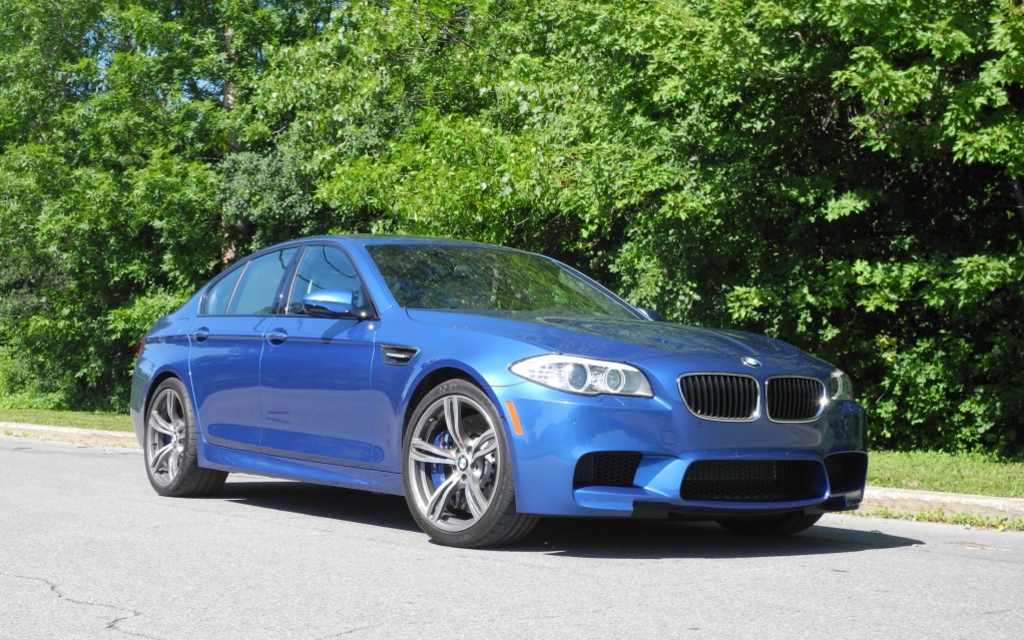 Strong points

Outstanding engine
Superlative performance
Advanced electronic control
Excellent handling

Weak points

Certain controls are complex
Too much electronic control
Complicated sequential gearbox
Very steep price
Full report
These days, every luxury brand has its own line of powerful and sporty models. Mercedes-Benz has the AMG Division, while Audi has its dynamic RS models. And then there's Jaguar and its high-performance R models. At the Bavarian manufacturer BMW, the Motorsport division is tasked with creating cars that are as exclusive as they are thrilling. The M name dates back to the mid-80s when Motorsport produced models for the sport sedan racing series in Europe. The first incarnation was the M3 (1986-1992), a legendary vehicle that favoured performance and made no sacrifices for the sake of comfort.
The rules of the game may have changed, but that hasn't stopped BMW from continuing to offer M Series models. In general, the M3 is the most popular, but the 5 Series sedan also has an M version. We recently had the chance to drive an M5 and, needless to say, this left a lot of people were green with envy. Not that this car is spectacular, but it possesses many small exterior features that set it apart from the other 5 Series models. Among the little luxuries, there are small electric motors that helps to  soft-close the doors.
Now that's an engine!
Enthusiasts will tell you that a sporty vehicle is judged by two main features: engine power and handling. You won't be disappointed with the horsepower, as the new M5 is propelled by a 4.4-litre V8 that produces 560 horses at 5,750 rpm and 500 lbs-ft of torque at only 1,500 rpm. It's the most powerful engine ever installed in a BMW sedan. All those horses come thanks to two twin-scroll turbochargers located between the two rows of cylinders. Power is directed to the rear wheels by way of a double clutch seven-speed transmission. P265/35 ZR20 tires in front and P295/30 ZR20 tires in back optimize handling in turns.
As in any modern luxury car, electronic steering assistance is omnipresent, but the steering assistance, firmness of the suspension and transmission output are adjustable using the various buttons located to the left of the stick shift. Your preferred settings can be saved with the M1 and M2 buttons.
It's come a long way since the first M3, which was generally free of electronic assistance. Thanks to all of its miraculous accessories, the new M5 can be adjusted like a Formula 1 car – or almost. Of course it has launch control, but it isn't very user-friendly, and we had to fiddle with the buttons before we found the right one.
Note that the double clutch sequential gearbox doesn't have a "P" position. You must place it in "D" when you cut the engine for the transmission to go into "P" mode. In fact, there are so many settings in this car that you have to study the owner's manual in order to get the most out of its performances.
Limousine or rocket?
One of the advantages of all this electronic equipment is that this M5 can be adjusted for comfort or for maximum performance. When all the controls are placed in comfort mode, this luxury BMW behaves practically like a limousine. The suspension remains a tad firm, but as for the rest, it's a comfortable and well soundproofed car that's easy to drive.
When you decide to switch to sportier driving, just set the various controls to Sport or Sport Plus mode and this beast will go from 0-100 km/hr in 4.4 seconds (if you believe my Racelogic measurement system). I didn't dare test the maximum speed, but BMW says that it's 305 km/hr!
The limits of this car are far beyond my limits as a driver, which was painfully obvious when I took it for a spin on a track, as I as often do during test drives. However, on the winding roads south of Montreal, it took on curves with ease. All you have to do is turn the wheel, and the car takes care of the rest.
Too civilized!
This beautiful German car features impressive mechanics, handling and comfort. If I have to say something negative about it, it's that it has too many electronic driving assist systems. With the multitude of settings, you can adjust the suspension, steering and shifting according to your immediate needs. Unfortunately, it disconnects you somewhat from the mechanics. The performance is astounding, but the feedback is somewhat lacking.
Nonetheless, this BMW is an extraordinary sedan.
Share on Facebook