Hearts and Minds: the 2013 Jaguar XJ L Portfolio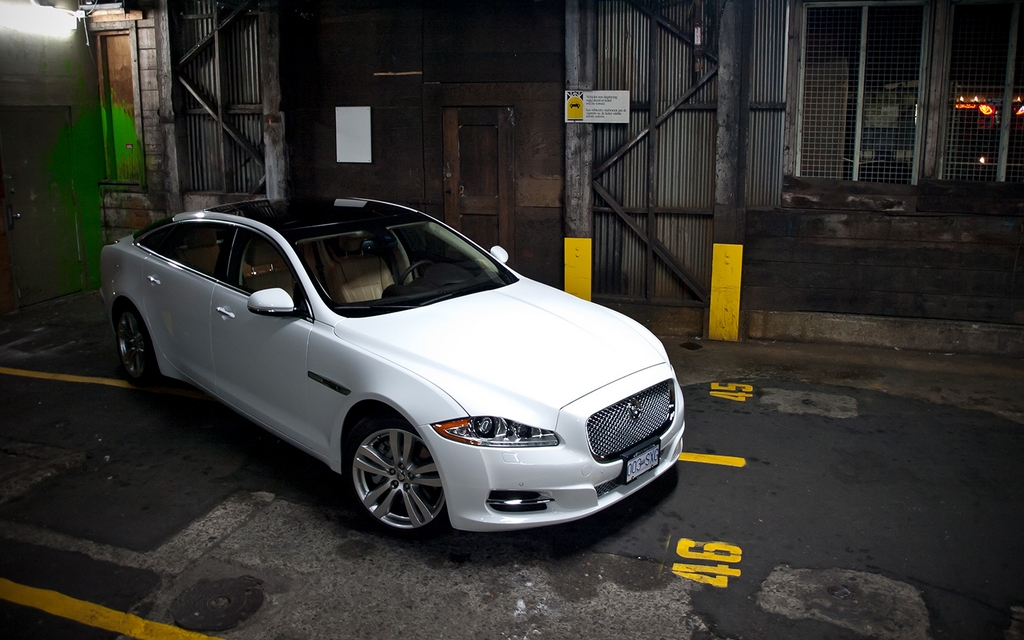 Strong points

Fantastic styling.
Stupendous powertrain, sounds amazing too.
The best interior shy of a Bentley or Rolls.
Drips style and class.
Relatively uncommon, still.
Huge rear seat.
Choice of royalty.

Weak points
Full report
Life, it would seem, is oftentimes reduced to a struggle between one's heart, and one's mind. Too frequently, raw passion forces a compromise upon logical thought, whilst logical thought too often precludes the inclusion of any emotional response. As a result, people find themselves subconsciously sliding around on an imaginary scale, with logical thought dominating one end and emotional response the other. Where you sit on this scale will determine how you feel about various things, but few of those things will ever inform you of your position quite as well as this: the 2013 Jaguar XJ L Portfolio.
Because at a full 17'3" long, the lithe-looking, range-topping extended wheelbase Jaguar sedan is the absolute epitome of style. At once stately, voluptuous, and sleek, its aluminium coachwork is the embodiment of Jaguar's old slogan of "Grace, Space, and Pace." From the jewel-like faux wirework grill to the somewhat controversial blacked-out C-pillars (they don't look bad on the majority of colours, but given the unique construction of the car, brushed aluminium might have been a slightly more interesting choice), it's a truly amazing design to look upon, for it is not one that reveals itself at a glance. The rear end, for example, looks initially quite revolutionary as a result of the short and flowing decklid, lack of adornment, and heavily sculpted taillights. Take a second look, however, and you can see a certain degree of the signature cat's ears taillight design there; an effect that's even more apparent with the LED elements within lit up. The grille, initially taken as a thoroughly modern design element, has shockingly similar proportions to that of the Series II Jaguar XJ, and its upright nature even comes close to mimicking the angled-forward stance of those old XJ grilles. And the proportions... well, if you've ever seen a Mark X or 420G, you know this isn't the only visually imposing car Jaguar's ever built. But its charm isn't entirely located in the past. Parked alongside its contemporary competitors hailing from Germany, Italy, and Japan, the XJ has an amazing ability to render those designs from BMW, Mercedes, Audi, Lexus and Maserati instantly awkward, bland, boring, pedestrian and vulgar, respectively. Somehow distancing itself from the XF enough to look properly upper echelon without losing the brand identity, the XJ is a car that looks like it'd be equally at home ferrying the Duke and Duchess of Cambridge to their summer estate (it's proven to be) as it would be conducting business along the Autobahn at 195 kilometres per hour (it's probably proven to be). 
Undoubtedly, in either case, the occupants are sure to be impressed with the appointments available within the confines of this gloriously British conveyance. Opulent, timeless, and utterly without parallel in its class, the cabin of the XJ is undeniably gorgeous and much closer in overall quality and style to those of Rolls Royce and Bentley than any of its similarly-priced competitors. Much like the bodywork that bounds it, the XJ's cabin combines classic touches, like the wraparound wood trim, round air vents, knurled knobs, and chrome accents, with a thoroughly revisionist style to produce a cabin that offers all the opulence of a classic Jaguar saloon with the modern conventions and luxuries you'd expect... for the most part. In Portfolio trim, this means its occupants can enjoy a wide array of amenities, including (but not limited to) massaging front seats, iPod integration, touch-activated glovebox release  and interior lights, a programmable speed limiter, automatic wipers, and a very nice LCD digital dashboard. But there are some odd omissions and strange choices on the spec list, too. Adaptive front headlights and adaptive cruise control spring to mind as possible standard features on a car that starts at $95,500. Similarly, the decision to provide the front seats of this near-limo with a massage feature, but not the rears, comes off as a little odd, and the LCD digital dashboard, although interesting, isn't an appropriately high resolution display and offers nothing that traditional gauges couldn't. Furthermore, if the quality of the analog clock is to be taken as an indicator, it's entirely reasonable to guess that had Jaguar opted to go with conventional gauges, they might trump the LCD display in terms of attractiveness. Conversely, if Jaguar offered a higher resolution display with varying display modes, lighting, and features that gauges couldn't hope to match in terms of flexibility and customization, it might make more logical sense to stick with the screen... but as it sits, the pragmatist will find it nigh impossible not to wonder what the whole point of an LCD screen is, when all it's doing is a task gauges could do better. 
Under way, however, it easy to proclaim that all is forgiven. Although nearly large enough to comprise a city state unto itself, the almost entirely aluminium Jaguar XJ weighs over 300 pounds less than its competitors on average, and sees that advantage grow in long wheelbase trim. As tested in the naturally aspirated, Portfolio trim, the XJ L tips the scales at a fighting fit 4,131 pounds. To put that figure into perspective, it's 465 pounds less than an A8L 4.0T, 487 pounds less than a long wheelbase Mercedes S 550, and 529 pounds less than a 750Li. In fact, it's fourteen pounds lighter still than an BMW M3 cabriolet. As a result, it lacks the hefty sense of bulk that accompanies so many long-wheelbase executive saloons, and never feels like it's truly taxing either its drivetrain or suspension. Be it in the urban sprawl or on the mountainous highway, the relatively featherweight Jag's capability seems bottomless, as its spry weight precluding the hefty spring rates and heavy handed damping its weighty competitors demand. Powered by the naturally aspirated version of Jaguar's 5.0 litre V8, the 385 horsepower, 380 foot-pound engine is a far cry from the 510 that's available in the Supersport model, but its power delivery remains perfectly suited to the big XJ. Puttering around within the city limits barely brings the tachometer above tickover as the eight speed automatic exploits the readily available torque, with highway speed limits requiring only slightly more revs but still capable of being dispatched with utter impunity. Better yet, it'll return phenomenal fuel economy all the while, as a week's worth of very mixed driving elicited a stupendous 12.1L / 100 km rating. 
But, there's simply no denying it: those occupying the logical end of the spectrum will gaze upon a car of this magnitude and cost in disbelief. And they have a point: at nearly $100,000, there can be no denying that its spec sheet is somewhat maladjusted. In a class dominated by cars that boast infra-red cameras, self-parking systems, a degree of self-driving systems, hide-away navigation systems, and monstrous power, the Jaguar's set of standard features seems almost morose by comparison. But, if you're of the emotionally motivated variety, it's impossible not to find the Jaguar's alluring shape, jaw-dropping interior, and lovable sense of tradition more than enough to offset its lack of technowizardry. There's real character in its design, and it feels as if those responsible for its creation were truly passionate about the history of Jaguar as a brand and the XJ as a car. And driving it, you get the sense that what they have wrought isn't just another car to fill a niche, but rather the next chapter of that history. And that's something that, for those of us that appreciate that sort of thing, is utterly priceless.
Share on Facebook