2013 Mazda CX-5: Zoom Zoom and Co. builds a compact crossover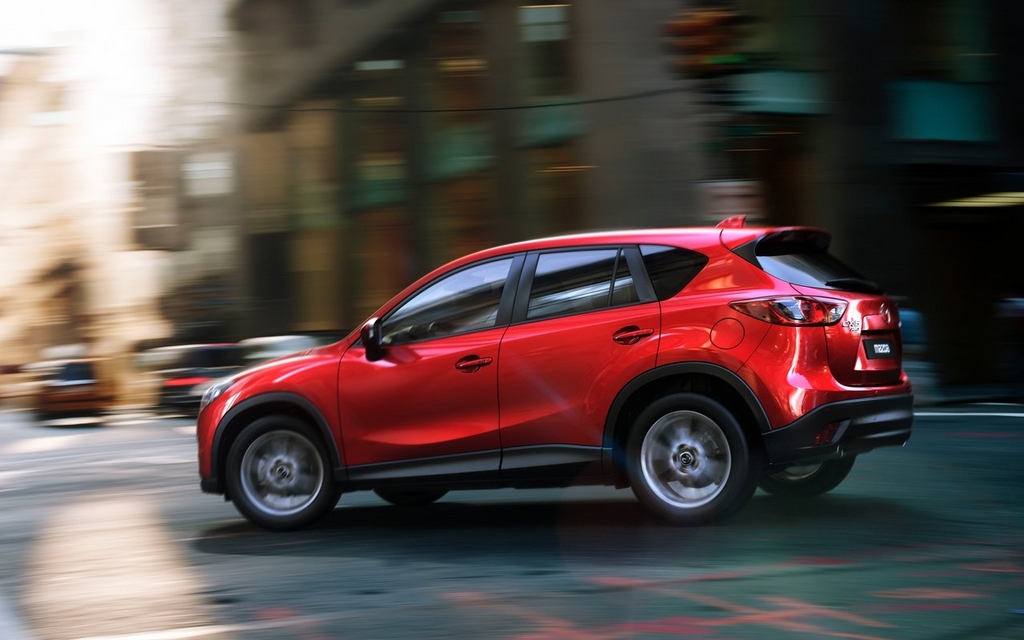 Strong points

Looks great.
Returns excellent fuel economy.
All-wheel drive is a nice available feature.
Good, workable interior.
Drives in the typically Mazda (ie. fun) way.

Weak points

Interior isn't the revelation it's bodywork nor drivetrain are.
Some squeaks and rattles... but possibly just early production issues?
Full report
If there's one automaker that truly deserves credit for allowing a certain degree of their unhinged, unabashed enthusiasm for the automobile influence their designs, it simply must be Mazda. Sloughing off one of the world's most staid, rigid, and regimental cultures in favour of such vehicles as the deranged, twin turbocharged, rotary-powered RX-7, as well as singlehandedly reigniting the world's love affair with the sport car thanks to their affordable and affable Miata, Mazda's ardent conviction is absolutely undeniable. So what happens when a company with that amount of panache and vivacity wades into what may arguably be the most practical marketplace extant? This: the all-new CX-5. 
Built atop an entirely new platform, the first of Mazda's vehicles to feature the new SkyActiv technology, the CX-5 is also the first to utilize the brand's new "Kodo" design language. And you'd know all this at first blush, as well, seeing as it looks a damned sight better than any of Mazda's previous crossover attempts. There's quite a few more organic curves to be found along it's flanks, and quite a bit less of the sort of shiny, distracting adornment that aged the CX-7 and CX-9 designs. And although it might be the work of a thoroughly Japanese firm, it's not staid nor regimental in design, instead appearing taut, decisive, and dynamic... but all while maintaining a certain air of Japanese inoffensiveness. Granted, from certain angles, there's a bit of a Hyundai-esque air about it (specifically the rear three quarter) but from most angles it's undeniably sporting, and manages to straddle the typically daunting gender barrier as well, appearing neither overly masculine nor particularly feminine. And the proportions are perfect too. 
But if it's exterior appearance is everything you don't expect from the Land of the Rising Sun, the interior is. That is to say, it works absolutely flawlessly and is quite comfortable, but does little to stir the soul. Sure, there's a few nice touches here and there, but overall it's uninspiring and leaves one scratching their head as to why manufacturers insist on maintaining such a stalwart approach to interiors on these clean sheet redesigns. And as the vehicle that's championing Mazda's new design language and engine technology, I for one had hoped Mazda would seize the opportunity to revisit their interiors as well, but the CX-5 left me somewhat disappointed in that regard. Of course, that doesn't mean the interior it's got is bad; it is still stupendous... it's just a little too predictable. The materials are all identical to those found in previous Mazda models, many of the switches and parts are borrowed from the Mazda parts bin, and the manner in which it is all assembled seems to follow the nearly industry-wide blueprint for how a small vehicle's interior should be laid out. Of course, the flip side of that argument is that the similarities between the CX-5 and vehicles like the Mazda3 will undoubtedly breed a comfortable familiarity within its would-be buyers, helping make the transition from compact car to crossover an easy one. 
And if the CX-5's similar interior isn't enough to bring about bouts of déjà vu, its driving manners certainly will. Although quite a bit taller than something like a Mazda3, it feels no bigger, and may actually be even more confidence-inspiring. Affording much better sight lines without introducing any new and significant blind spots, it's a vehicle that's well suited to the urban jungle, with its quick, "zoom-zoom" inspired steering ratio and small turning circle proving a real boon in tight parking lots. Out on the highway, the little CX-5 rides quite well, with a comfortably firm suspension setup that invites the driver to conduct their business in a slightly more sporting manner than you'd expect of a compact crossover. Available with all-wheel drive, as my tested was equipped, it is certainly a fun little car that bears out the same enthusiastic DNA that's inspired Mazda's "zoom-zoom" philosophy of producing fun to drive cars.
However, although its ride and handling are quite well executed, it's the powerplant found underhood that proves most worthy of praise. Displacing just 2.0 litres but benefitting from a whole host of improvements dedicated to reducing internal friction and maximizing power output (the combination of which has culminated in an incredible 14:1 compression ratio!), the SkyActiv four cylinder doesn't feel especially dissimiliar from other four cylinders whilst under way... but returns very different fuel economy figures. After a week's worth of very mixed driving ranging from stuck-in-summer-traffic-with-the-AC-cranked to highway strafing runs and everything in between, the little CX-5 professed to burning no more than 7.9 litres per hundred kilometres; an incredibly impressive figure given the car's size, frontal area, and all-wheel drive layout. And it did it without crucifying it's power delivery either. True, it wasn't about to set any land speed records, but I certainly wouldn't peg the little Mazda as underpowered or lacklustre. 
So, does the CX-5 continue Mazda's enviable tradition of breaking therewith? Well, yes and no. It's exterior is, to most eyes, absolute inspired considering its price tag. The powertrain and chassis are, if not shifting the small crossover paradigm towards fun and frivolity, at least squishing it over towards that direction... and the engine is nothing short of a revolution in naturally aspirated engine design and economy. Which leaves us with the interior. Perhaps it is merely the CX-5's shapely bodywork, or perhaps it's the extent to which the car has been touted as the champion of Mazda's latest direction, or perhaps it's merely how good the rest of it is, but there's simply no getting around the fact that it feels as if Mazda could have done more. It is, after all, the area that owners interact the most with. But, all that having been said, that the CX-5 could have only come from Mazda is completely and utterly irrefutable. It captures all the brash, fun, affable, and youthful attitude we've come to expect from Japan's fun-car manufacturer, and then pairs those influences with a practical platform and incredibly thrifty powerplant. The resulting vehicle feels a bit like a collection of the best parts of every other Mazda available, which, if you're a fan of fun, practical, and economical cars, is definitely a good thing.
Share on Facebook