Mazda3 GS Skyactiv: Promise kept?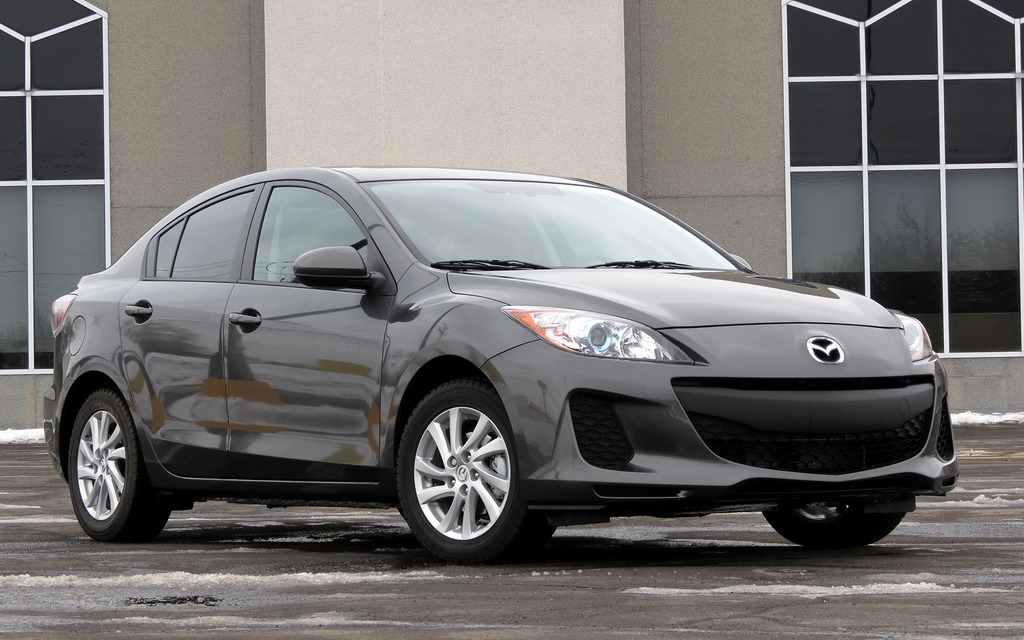 For years now, Mazda has been describing the wonders and promise of a new technical philosophy called Skyactiv. The Car Guide team has already described it to you in detail.
But to sum up in a few words what could easily take hours to explain, Mazda's engineers called into question the most basic principles of automobile engineering in their quest for increased efficiency and output. In many cases, they made surprising discoveries by simply putting aside long-standing practices that had slowly and subtly become outdated over time.
A complete rethink
Thus, Mazda has developed new components and redefined its technical parameters. As a result, the company's developments should result in substantial gains without turning to the complex and costly technology that its wealthier competitors have implemented. Without the billions that their rivals have, this brand – which has always relied on boldness and originality – is now playing the ingenuity and simplicity cards for their mechanical and technical components.
Denis Duquet first described what Mazda initially called the Sky system while driving development prototypes in Berlin in the spring of 2010. At the time, he wondered if it was indeed going to slash fuel consumption by almost 25%.
Then, in October 2011, Denis drove the 2012 Mazda3 that would become the first production model available with Skyactiv components, namely the new 2.0-litre 155-hp four-cylinder engine and the brand new six-speed manual and automatic gearboxes.
A few weeks prior, our colleague detailed his first test drive on the roads of Iceland at the wheel of a CX-5 compact SUV prototype, completely designed and developed using Skyactiv principles. Then Sylvain Raymond related his first experience with the production version of the same CX-5.
Under the hood
So it was about time we tested the production versions of these first Mazdas featuring Skyactiv technology – this time on Canadian roads and in real Canadian weather conditions. And that's what I've been doing these last few months: test driving various versions of the Mazda3, the first series to be equipped with Skyactiv.
At present, Skyactiv technology consists of using the new 2.0 litre four-cylinder that produces 155 hp and can be paired with one of the new six-speed gearboxes on the GS-Skyactiv models. Due to a lack of space under the hood of the current Mazda3, the engineers had to give up on using the new multi-pipe exhaust manifold. Therefore, the new CX-5 is the first to benefit from all of this engine's advantages.
In a smart move, Mazda has decided to offer the GS-Skyactiv for only $700 more than the regular GS, which is right in the middle of the Mazda3 family. Its 2.0-litre engine also equips the more affordable GX versions, while the GTs continue to use the more powerful but less fuel-efficient 2.3-litre.
New vibrations
I started with the Mazda3 GS-Skyactiv with the six-speed automatic transmission and was immediately taken aback. Its accelerations were sluggish, despite the new engine's added power and extra torque at low speed. Check out the numbers: 155 horses at 6,000 rpm and 148 lbs-ft of torque at 4,100 rpm for the Skyactiv-G versus 148 horses at 6,500 rpm and 135 lbs-ft of torque at 4,500 rpm for the regular 2.0-litre engine.
Reason number one is that the first of the six gears of the new automatic gearbox is less reduced (3.552:1) than that of the regular five-speed automatic (3.620:1). More importantly, however, the new transmission shifts quickly into second gear and its torque converter is nearly always locked thereby almost completely eliminating the inevitable slip between the torque converter's hydraulic turbines. Moreover, this slippage is synonymous with wasting fuel, which is precisely what Mazda's engineers were trying to avoid with this new automatic gearbox.
Changing gears, still as crisp and precise as ever, is never the least bit rough. The feeling is a lot like the way an automated dual-clutch gearbox works. The Skyactiv gearbox also adjusts engine speed when downshifting in manual mode with equal precision. Mazda's engineers really delivered the goods on this point.
Now for the numbers
The GS-Skyactiv's accelerations are almost identical to those of the regular GS tested previously. The automatic version went from 0-100 km/hr in 9.64 seconds and covered the quarter-mile in 17.04 seconds with a maximum speed of 136.1 km/hr. Meanwhile, the standard GS recorded times of 9.60 and 17.05 seconds respectively with a maximum speed of 133.4 km/hr at the end of the quarter-mile (402.3 metres).
The better torque and the GS-Skyactiv's six-speed automatic gearbox give it better pick-up with a time of 6.09 seconds from 60-100 km/hr and 7.63 seconds from 80-120 km/hr (compared to 6.38 and 8.32 seconds for the regular GS). It's also clearly superior when it comes to fuel consumption with an official Natural Resources Canada (NRC) rating of 7.1 L/100 km in town and 4.9 L/100 km on the highway (as opposed to 8.7 and 6.0 L/100 km respectively for the GS).
I wasn't able to measure the automatic version of the GS-Skyactiv's real fuel consumption properly, but I got it together with the version equipped with the new six-speed manual gearbox. Its NRC fuel consumption ratings of 7.7 and 5.0 L/100 km are not quite as good – but then again, you don't have to fork out the $1,200 for the optional automatic gearbox.
You certainly don't have to settle for this new manual gearbox for the sake of saving a few bucks. More compact and lighter than the five-speed gearbox, it's inspired by the MX-5 Miata's exemplary manual gearbox. Shifting is wonderfully short, light and precise. It's another cherry on top of the guaranteed pleasure of driving a Mazda3.
However, the manual gearbox doesn't add anything in the way of performance, at least not according to the initial 9.32-second 0-100 km/hr time and the 6.76-second quarter-mile time and maximum speed of 137.7 km/hr. In fact, the GS-Skyactiv nearly keeps pace with the regular GS, whose performances I measured at the AJAC's annual testing a few years ago. Its quarter-mile time was 16.71 seconds at a top speed of 138.7 km/hr while its 0-100 km/hr time of 8.65 seconds was much better.
Surprising fuel economy
So, the GS-Skyactiv isn't as strong off the start but really narrows the gap afterward thanks to its torque. But its fuel economy is most intriguing. A first comparison with a GS with a manual gearbox tested the previous week was neither impressive nor conclusive. Some colleagues and first GS-Skyactiv buyers were disappointed with the fuel onsumption.
However, I changed my mind after a trip around Quebec's Eastern Townships, covering a little more than 200 km of combined back roads, winding country roads, a few good climbs and a stretch of highway. I drove normally too, without any furious accelerations, but without making any real effort to beat any fuel consumption records either. Cruise control was set at 118 km/hr on Highway 10 (to keep up with traffic, of course).
Furthermore, the GS-Skyactiv with manual gearbox that I tested went 200.3 km on 10.56 litres of gas. That comes to an average of 5.27 L/100 km. I remember having done almost as well (5.53 L/100 km) with a Ford Fusion Hybrid on the same roads. To be 100% sure, I redid essentially the same trip a little while later with an equally brand new Mazda3 GS-Skyactiv whose young owners were disappointed with the fuel consumption.
As the conditions weren't exactly the same, I compensated as best I could by modifying the trip. The result was 12.05 litres of gas for 205 km – an average of 5.88 L/100 km. Not quite as good, but still excellent for the owners who were now reassured about their car. To truly size up its fuel economy, we'll need to compare the GS-Skyactiv with its main rivals. But it's sure to figure among the leaders of the pack – finally.
When it comes to handling and the simple pleasure of driving, however, the Mazda3 is the frontrunner and the GS-Skyactiv is the best of the bunch. Now just imagine what Mazda engineers will be able to do when they integrate all of the Skyactiv program's tricks into the next Mazda3!
Share on Facebook