2012 Lexus CT200h: A Less Pious Prius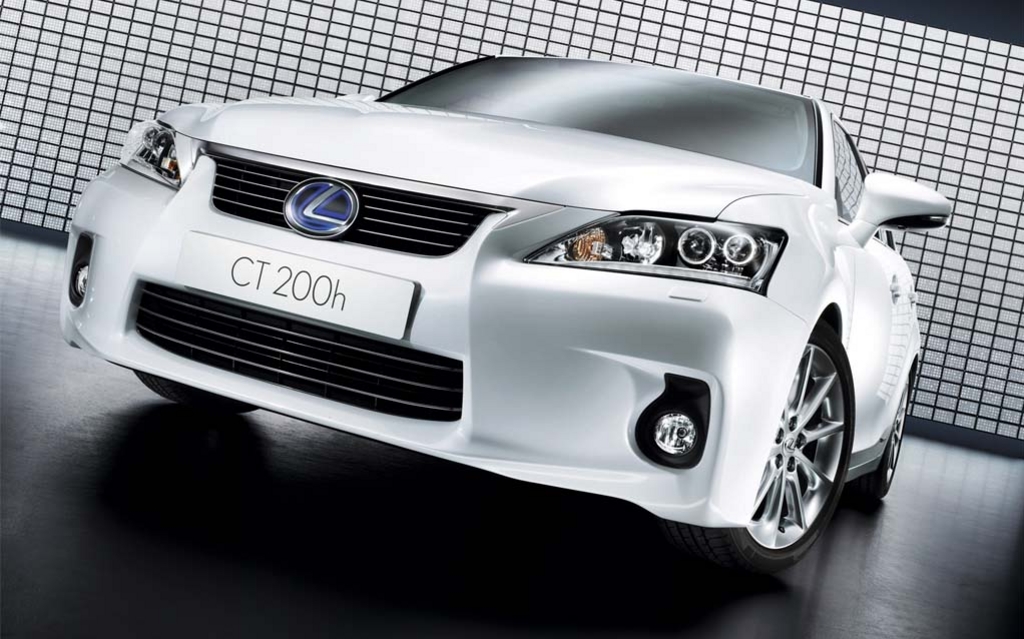 Strong points

Excellent fuel economy
Remains very much a Lexus product
Smooth, quiet, and comfortable
Downright affordable!

Weak points

Small back seat, and a smaller trunk
Looks far faster than it is
Full report
Good Lord, Canada can suck sometimes. And by sometimes, I mean right after you deplane in Toronto's -3 weather on a plane that had been bathed in Cuba's 28 degree sunshine just four short hours before. Cold, relatively desolate, and unbelievably monochromatic, it takes a while for Canada's maple-glazed flavour to drip through rum-soaked retinas blissfully accustomed to warm blue water backing searing white beaches, incredibly loud dance music, and an eclectic mix of pre-'59 roadgoing Americana and Soviet-era Ladas. Of course, I had thought that coming home to a brand new Lexus would help ease the transition. 
And, bathed in a pearlescent white paint job that seemed a perfect match for Cuba's sandy beaches, my high hopes for the all-new CT200h F-Sport looked to be well placed. Although I'd seen a few around and already thought them to be a relatively handsome looking station wagon, I was surprised by precisely how good my particular tester looked. Pairing the aforementioned (and very luxurious) pearlescent white with the contrasting grey, 17-inch, F-sport package wheels makes for a car that's as close to a factory performance special as you could expect from Lexus. At least, so long as you ignore the IS-F, that is. 
And the performance derived theme continued inside. With the F-sport logo appearing on the steering wheel, seats, and scuff plates, Lexus has done a good job on ensuring that you never forget that you spent an extra $5,400 for this stuff. However, there's certainly no shame in owning a lesser CT200h because if I'm honest, the F-sport stuff seemed to be merely icing on an already delectable cake. Continuing the growing tradition of assembly excellence, the CT200h bears many of the same materials and finishes that you'll find in Lexus' six-figure LS600hL, and it seems to be put together with nearly the same amount of thought. Switches all fit perfectly within their holes, and meet fingertip pressure with just the right amount of resistance before positively sliding home. Even the switchgear's labels seem to have been painstakingly thought out, as the familiar backlighting glows though with a uniformity and accuracy that never ceases to surprise. And then there's the interior's design. I've always found Lexus' signature waterfall-style console to be a little lacking in the creativity department, so seeing the more traditional horizontal dashboard bisected by a separate center console was a breath of fresh air. And as wild and crazy as it might seem, when I saw how steeply angled the console was, I couldn't help but think back to the rakish, nearly horizontal centre console I'd experienced in Lamborghini's Aventador a few weeks back.
And perhaps it's the various go-fast cues like that that were precisely the problem. Looking like it'd almost be at home on the grid of some touring car championship, none of the CT200h's styling prepared me for what I'd experience when I pushed the Start button: absolutely nothing. Powered by the now-familiar 1.8L hybrid drivetrain found beneath the Prius' popular hood, the CT200h greets it owners with a whisper, a whine, and a Ready light on the dashboard. Slide, or rather, toggle the oddly shaped shifter (it's really more of a transmission switch) into its Drive position and you get more of the same. Some whining, some whispering, and a bit of forward momentum. It's only when you push harder on the pedal and bring the Eco gauge from its Eco zone into the Power zone that you get the slightest of tickles through the seat to indicate that the engine's actually running. 
Obviously, being a Prius-powered luxury sedan of similar mass, the Lexus isn't exactly a barnstormer when it comes to its accelerative properties. Although Sport mode certainly does increase the amount of grunt delivered to the front tires thanks to the threefold increase in electric power output it allows, it can't defy the laws of physics: this is still a 134 combined horsepower attempted to move just over 3,000 lbs. The same rules apply to the handling, too. Although it's definitely a nimble car with surprisingly stiff suspenders (thanks to the F-sport package's optional dampers, no doubt), there's the overwhelming impression of a suspension designed for low rolling resistance tires and polite responses, not performance. Add in that the vast majority (59%, to be precise) of its mass resides over its front axle, and it shouldn't be that much of a surprise to learn that it scrambles for traction under even moderate lateral loads. What is surprising, however, is precisely how the electric motor acts upon that front suspension. Providing almost diesel-like torque from any engine speed, it's powerband is almost too exploitable, and makes it extremely easy to inadvertently light up the inside tire around a corner when the electric motor kicks in, especially when left in sport mode. 
 But, push the round Sport selector back into Normal mode, and you get a pretty fair rendition of exactly what a Lexus version of the Prius would feel like. Although primarily created for the European market, the CT200h combines the most important qualities a potential Lexus buyer would be looking for with the most recognizable traits of the iconic Prius. The result is, by many accounts, the perfect urban runabout. Dead silent, smooth, and extremely nimble, the CT200h proved excellent in traffic, where it could take full advantage of its hybrid system. And although the 5.7L/100 kilometer fuel economy I recorded may be a few marks off that of the Prius, it's a worthy trade off in my mind. You can't tip-toe around it: the Prius is pretty friggin' spartan. With base fabric seats and an interior that is about as inspiring as Dogs Playing Poker, it's the polar opposite of the Lexus' cosseting cabin and at just under $5,000 more than the Prius, represents a phenomenal value. 
Share on Facebook