2012 Nissan Maxima: Maximizing its potential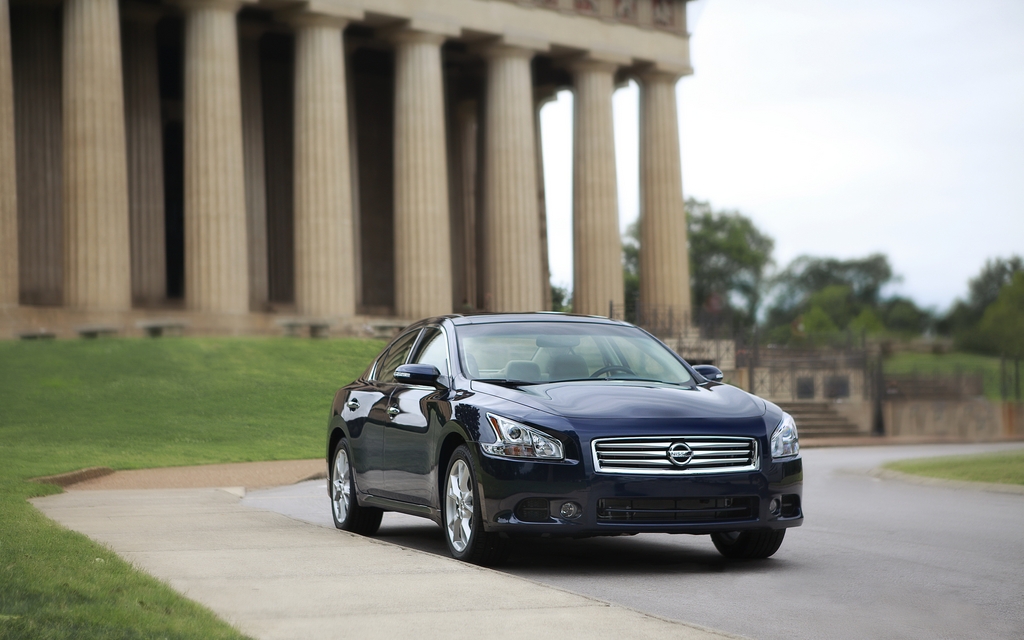 Strong points

Great performance
Has a very pleasant interior
Exhaust sounds fantastic
Fuel economy is surprisingly good for the performance!

Weak points

Not very big inside, for such a large car
Its in a very competitive market!
Full report
If you closely examine the outside of a newer Nissan Maxima, you'll find a single solitary sticker on the rear driver's side window proclaiming that Nissan's biggest family sedan is, in fact, a four door sports car. And although it's a claim that is too easy to scoff at, the shocking reality is that they're not half wrong. 
Retaining the same chunky proportions that it's enjoyed since 2008, the 2012 Nissan Maxima does boast a few updated details. Although the press information claims a new grille and taillights as the biggest changes, most will probably note the revised 18" and 19" wheel designs as the strongest indicators of the Maxima's evolution. In any case, however small the updates might be, the Maxima still manages to look pretty good. With one of the most characterful countenances in its segment, the Japanese sedan brings the straight-edge design language of the previous generation 350Z to the big family sedan market. Add in the strong shoulder line and aggressively flared fenders, and a few yards of empty space around it, and it actually does a pretty decent job of looking properly sporting. However, thrown into the average suburban parking lot, and not even its wide shoulders can prevent it from lazily melting into the background of Camrys and Accords. Also, the car seems to suffer from a relative lack of vibrancy; an affliction that appears to befall many of the more staid Nissan products in the form of greyscale and somber paint options. 
Similarly, the inside of the Maxima is classic old-school Nissan know-how. With a well-designed layout that's only surpassed in excellence by the extremely well-assembled feeling it's endowed with, the big sedan's commanding seating position really helps make the car feel substantially smaller than it is. With what are probably the most supportive and confidence-inspiring seats you're liable to find in a Japanese sedan of this size, and a steering wheel that feels as if it's been lifted directly from the 370Z (it was), the driver's seat is definitely the best place to be. In fact, while driving the Maxima, the only thing I found myself wanting was some spice. Perhaps I'd merely put too much stock in the four door sports car decal, but I genuinely think the Maxima would benefit from even just the slightest hint of the 370Z's wonderfully sporting design or alcantara trim. Similarly, I'd expected a car this big to have a bit more rear seat legroom, but a commodious trunk and what I can only surmise is a relatively beefy rear suspension setup seems to limit the back bench's real estate. 
It's endowed with beefy suspension, I assume, because it takes some serious muscle to convince a car this size to handle as well as the Maxima does. Although the potent 290 horsepower V6 conspires with the car's overworked front tires to malign ham-fisted corner exits, a soft touch can reward with phenomenal entry and exit speeds. Once again, when tugging at the wheel, the overall sense is that of a much smaller car; the Maxima's lateral movements feeling constrained and quick. And although the CVT transmission is an unconventional partner in such pursuits, it's surprisingly well suited at the task of delivering every last drop of available torque from the lusty V6. In performance terms, it feels downright quick in both straight-line and handling tests, albeit a little front-heavy. 
But, thanks to the combination of a quiet cabin, a long wheelbase, and all that weight, the car's just as comfortable sucking back the miles like nobody's business. Covering long, boring distances is as easy as hooking up your iPod to the intuitive infotainment system, cranking up some tunes, and letting the big V6 and CVT transmission lope you along towards your destination. The low profile tires do provide a bit of unnecessary background noise over less than perfect pavement, but it seems a small price to pay for the extensive and effective sporting chops the Maxima boasts. Fuel economy, within the city, is middling, but drops significantly once you're holding steady at a decent cruising speed.
Looking like a gigantic Japanese sedan in the same bland tradition as Toyota's Avalon, but quietly proclaiming itself to be a four door sports car, the reality of the Maxima's ability lies somewhere between the two. A pretty happy medium between full-size sedan luxury and sports sedan performance, it ends up feeling like something more akin to a 5-series Bimmer or the like... at least in spirit. And although it might not be the most memorable car your eyes have ever lit upon, given its propensity for speed, there might come a day when you're thanking your lucky stars that it can melt into the background. 
Share on Facebook