The Nissan LEAF on the Examining Table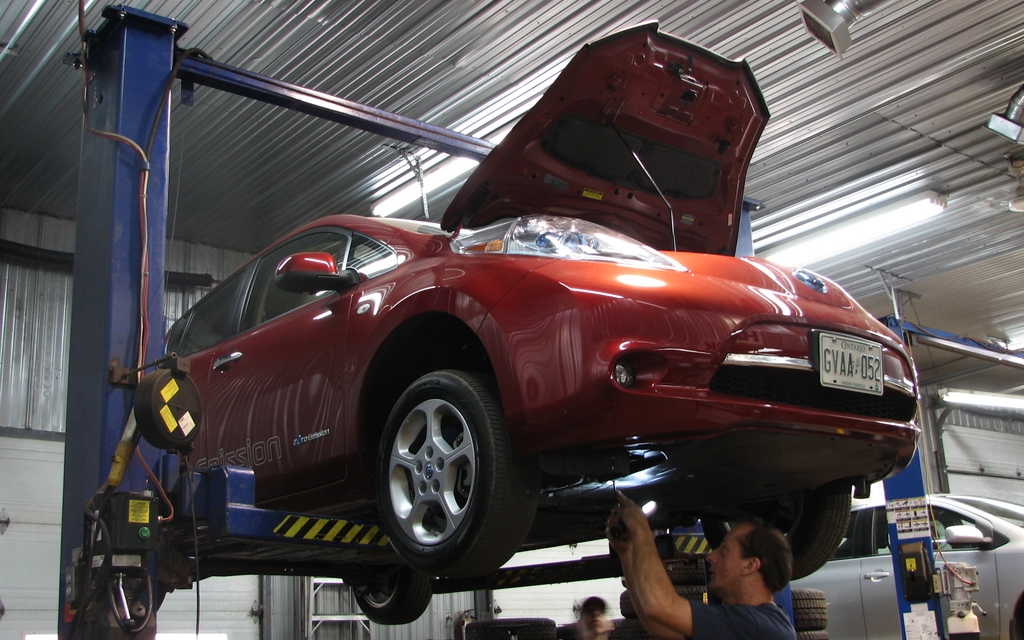 Although the Nissan Leaf is manufactured in small quantities and most models have already been purchased by the time they come off the production line, we were still able to get our hands on one for a week-long test drive. And while we were at it, we decided to have it meticulously examined in an independent garage.
Spectacularly quiet
It's utter serenity on board the Nissan Leaf. With the exception of the buzz of the electric engine during accelerations and the faint sound of the brake energy recovery system, there's almost no noise whatsoever in the passenger compartment. When the vehicle is completely stopped, it's total nothingness (provided that the ventilation and audio systems are turned off, of course). And, because of the radical change in the way available energy is managed, driving a Leaf is exactly the same as driving a conventional gas-powered car. Moreover, everyone that rode in the Leaf was surprised by the car's dynamic performances – and generally charmed by the product. You won't be disappointed by the accelerations and pick-up since the electric motor produces enough torque to allow the Leaf to take off quickly, going from 0-100 km/h in 8.5 seconds. Thus, you can push the car to the maximum without being reminded that it's a purely electric machine. Obviously, you can take it easy with the Leaf, if you prefer, to take advantage of its full potential and maximum range.
Not so different
The Leaf is lighter than a conventional car thanks to the absence of a traditional engine. It has eliminated the whole exhaust system and features a smaller motor. Of course, the batteries add to the weight but are wisely located in the middle of the car, as low as possible, under the backseat and on the floor. Otherwise, this car has everything it needs to act like a conventional gas-powered car. It has a transmission, an independent strut suspension in front and rear torsion bar suspension, ABS disc brakes on all four wheels, traction control and electric power steering. Essentially, the Leaf seems very traditional. The only dead giveaways are all the orange cables in the engine bay.
The mechanics at the Garage Nicolas Demers in St-Étienne-de-Lauzon were chomping at the bit to take get their hands on this totally electric car, and they were probably the first independent mechanics in Quebec to have the chance to examine the Leaf in depth. Check out the car's mechanical features in the photo gallery! We've included captions below the images to provide a detailed description.
Share on Facebook