A Step in the Right Direction: The 2011 Jeep Compass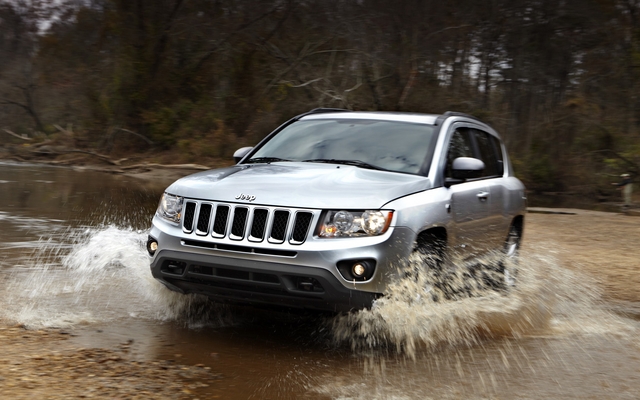 Strong points

Good fuel economy
Nice looking exterior
Comfy
AWD

Weak points

Still could use a little polishing
Needs a new back end
Full report
Dodge's old Caliber was a surprising automobile... surprising insofar that such a large company, with countless checks and balances, would ever see fit to release such a product onto the market. Stuffed with acres of some of the worst plastics created since 1983, powered by an anaemic engine and CVT transmission (barring the admittedly entertaining SRT4 variant), and looking like it was styled by a crayon-wielding nutbar, Dodge's Neon-following quasi-sub-SUV was, to put it bluntly, a mistake. The Jeep Compass that came afterwards was an even bigger one. 
See, taking an already less-than-impressive inner city runabout, beating it with an ugly stick, and attaching one of, if not the pre-eminent off-road brand name to it is not what I would classify as a smart decision. So when I heard that there was going to be a new Compass coming down the pike, and that I was going to be driving it, well... to say I was nonplussed would be generous. But, like so many other preconceived notions, my prejudice couldn't have been more wrongly directed. 
First off, whatever bruises and welts the ugly stick had wrought back when the Compass was first designed have been treated to enough plastic surgery to render them completely nullified. In fact, the new Compass looks downright good. Appearing to have ditched it's whole "Jeep for the city" approach to styling, the new Compass looks quite convincingly like a scaled-down Cherokee; at least from the front. Out back, those same uniquely shaped D-pillars and Caliber-esque bumper/tailgate treatment prove that Jeep's designers still have a little room to improve before they release the third-generation Compass. 
But, to be honest, I can live with an ugly car. But I can't abide a nasty interior, and that's where the old Compass really fell down. But stepping from the old one to this new Compass is like going from the Fleabag Motel to the Fairmont Vancouver (if you've ever had occasion to stay there, it's quite nice... oddly shaped suites though). But here's where it gets weird: it's almost identical. From the dashboard to the door panels to the center console, the 2011 Compass appears to share nearly everything with last years' model... and yet it still feels so much better. Maybe it's the revisions made to everything you touch (the new one does benefit from much-improved switchgear, a great new steering wheel, and a new armrest), or maybe Jeep's changed their plastic formulation or supplier, but for whatever reason, the new car just seems better-built. In any case, there's no denying the brand's renewed commitment to perfecting the details, with new backlighting, new cloth choices, and soft-touch materials on things that were previously hard plastic, like the tops of the interior door panels.
Underneath, it's the same sort of story: a few admitted-to changes that seem to elevate the Compass much more than expected. Boasting a retuned suspension system with higher spring and damping rates, added rebound springs, and a larger rear sway bar, one would expect the Compass to merely be a bit firmer, when the reality is that it's vastly improved. Around town it's 2.4L engine is quiet; with revs kept in check by the available second-generation CVT that also provides the best 4x4 fuel economy in its class. However, the engine's low-key nature doesn't mean it feels sluggish. On the contrary, by holding the engine speed to maximize torque output while accelerating, driving the Compass is a bit disconcerting, as the small car's decent acceleration feels altogether disconnected from the engine. 
But of course, being a Jeep product with no less than two available all-wheel drive systems, the Compass is no backboard barn burner. It's handling is still a little on the soft side, and significantly hampered by the tastelessly light steering that's devoid of any and all feedback. And yes, it's not about to run rings around the latest crop of Civics and Corollas... but it was never intended to. No, the Compass, although being saddled with the c hassis of its failed Dodge forebear, is still very much a Jeep product. And that makes it almost unique in this market, really only sharing the small 4x4 pie with the similar-feeling Suzuki SX4. See, while Hondas and Toyotas may make great cars during the dry months, when it comes time to negotiate the snowbound mountain passes and poorly ploughed parking lots of mid-January, the Compass will more than earn its keep. And thanks to its recent graduation from the Jeep School of Good Looks and Better Manners, it's no longer a cross to be borne during the other 6-10 months of year. I might have come at this vehicle with all of the wrong preconceived notions, but having spent some time aboard the new Compass, I don't think it's ever felt so good to be so wrong. 
Share on Facebook