2011 Ford Taurus SHO: The SHO Puts on a Show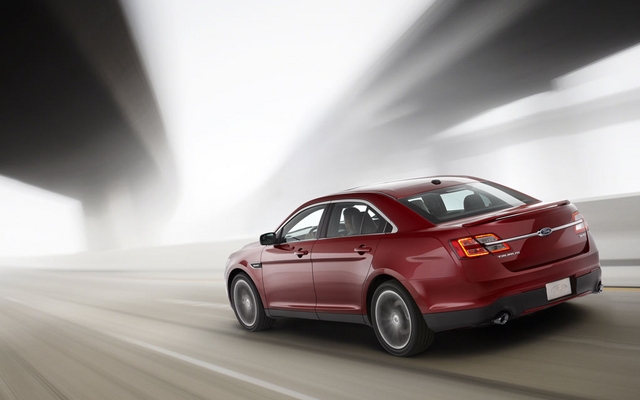 Strong points

Great power delivery, as always with the Ecoboost!
Very smooth and quiet
Eats up highway miles
Quite a nice interior

Weak points

A little cramped for such a big car...
... and it's a really big car!
Not the most willing playmate
Not the cheapest, either
Full report
I'm a child of the Taurus generation. Born in the same year, raised in more than a few of them, and having bid just as many adieu, they're probably one of a handful of cars that really marked my childhood. If they'd been a bit more like this new one, that mark might not have been so black.
Then again, staring at the gigantic sedan in front of me, I struggled to draw many parallels between the Taurus of my future and the Taurii of my past. For one, the new one is, as I mentioned, absolutely gargantuan. Whilst the old Taurus excelled as a mid-size sedan, the new one measures just two inches shorter than BMW's upper echelon 7-series luxo-barge. Why? Well, after the demise of Ford's long-forgotten full-size sedan (what will the RCMP do without those Crown Victorias?), the unibody Taurus has been groomed to occupy that car's still-warm, plus-size throne.
And then, of course, there's the look. Although certain Ford products prefer to look back through rose-tinted glasses and pull cues from decades-old designs, I think we can all be thankful that the Taurus design team didn't. Instead, it appears they took a trip over to Europe and cribbed a few notes from the Mondeo design team. Itself a handsome car, the Mondeo's curvaceous but aggressive lines look even better when hung upon the Taurus' XXL frame, and with the exception of the stern, the Taurus SHO looks every bit the sports sedan it is. But, as far as that rear end goes, it almost seems like Ford ran out of design budget, as all the care and diligence that's apparent elsewhere in the sheetmetal is absent from the relatively bland taillights and slab of trunklid.
Which is a bit surprising, given that's the angle that most motorists will see. Although available in lesser trims, it's this, the SHO, that's the one to have. Hearkening back to an era when Ford approached Yamaha to produce one of the most character-filled front-wheel drive V6 sport sedans ever produced, the new one trades the high-revving Yamaha V6 idea for a big, lusty twin turbo V6 and ditches the front wheel drive layout for a thoroughly modern all-wheel drive system. But, pop the hood, and there's still a hint of old-school SHO to be found in the transverse engine layout. 
However, moving down the road, the new SHO shows itself to be something of a different beast from that frenetic model of a bygone era. Yes indeed, the passage of a couple decades' time has matured the Taurus SHO mightily, and the resulting product is as polished as a fine wine. Having had the occasion to drive the car for a few hundred miles down on the... ahem... mighty I-5, I came to appreciate the car's almost Germanic ability to consume high-speed miles, with little more than a slight pedal depression or finger twist being all that was required to change lanes, pass, merge, and slow up. It's not rushed in its movements, and prefers to barrel ahead like a freight train, building a full head of steam off the turbo boost before lunging forward in great, loping strides. And although it may feel and look to be about the same size as a school bus, the big car's not terribly lacking in the agility department either... although I'd still prefer a Fiesta or Focus on a tight, winding road, if I was limited to Ford's stable of sedans. 
Of course, that doesn't mean that the Taurus isn't capable of stupendous things. Most certainly, when pushed, it's suite of physics-bending technologies can push back. But it's the car's character not to. Maybe it's the giant, comfy seats or the ridiculous amount of noise insulation that's been installed, but the overall effect is one of semi-serenity. In fact, with its combination of lazy, but bottomless power and an isolation-chamber interior, the driving experience is damn close to that of BMW's latest 550i sedan, lumps and all.
I say that because both this Ford and that Bimmer share a few niggles. First, there's the interior. Oh sure, both feel great, but the designs do leave one scratching one's head. Just as with the BMW, I can't but wonder why the dashboard and center console need to occupy so much space. It's not necessarily that the wide console and rakish dashboard really impinge upon the passengers' personal space, but they do prevent both of these huge cars from feeling as big and airy on the inside as they should, and it does seem to require a lot of interior space be dedicated to the front seats, while the rear seats end up sacrificing legroom. And then there's the personality. Although I don't particularly mind a big, lazy sedan with big power, the Ford Taurus falls into the same trap as this latest 5-er by isolating the driver a bit too much; making and high speed hooliganry feel a too forced to really be "fun."
And finally, we arrive at possibly the biggest bone of contention: the price. Staring at a tick over $43,000, it ramps up quickly when you start speccing out some of the nicer options, and it isn't totally unthinkable to arrive at a price tag that's knocking on $55,000's door. And that's where Ford has a problem on their hands with their decision to use the Taurus name. As a car that many can remember fondly as good, solid, affordable transportation, simply responding with "$54,000" to the question of "how much does it cost" seemed to have a lot of passersby swallowing their tongues. And then, of course, there's the added problem of competition. Putting it dangerously close to the same market segment as that occupied by premium marques as BMW, Audi, Lexus, Mercedes and Jaguar definitely changes the way people approached the big SHO, but the biggest competition can be had at the same dealership as you'd buy a Taurus: the Lincoln MKS. With only a slightly higher price tag but better equipment levels, the big Lincoln's got a bit more panache, style, and substance for just a wee bit more coin.
Share on Facebook