Kia Sportage vs. Mitsubishi RVR: Two 2011 newbies go head to head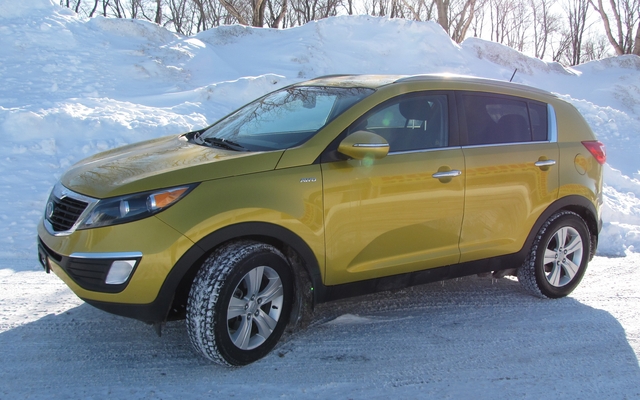 The popular compact SUV niche welcomes two new friends: the fully revamped Kia Sportage and the Mitsubishi RVR, a shorter version of the Outlander.
Since both vehicles are new, I thought it made sense to compare them, even though they're quite different from one another. Specifically, my test drives involved the Kia Sportage EX and the Mitsubishi RVR GT, both with all-wheel drive.
Two distinct styles
These SUVs are both good-looking, but I personally have a slight preference for the Mitsubishi's style. Admittedly, the Kia has a more dynamic appearance. It's also bigger and seems to be designed for drivers who like to take the road less travelled (literally), while the Mitsubishi RVR targets a more urban clientele.
In terms of passive security, the Mitsubishi features seven air bags, compared to the Kia's six.
Runaway prices
As is the custom in this industry, starting prices for these vehicles are tantalizingly low, but they climb quickly as you add equipment packages at a cost of at least $2,000 each.  These two rivals go for:
Kia Sportage: $21,995 to $36,995
Mitsubishi RVR: $21,698 to $30,198
*Though the Mitsubishi Canada website lists the starting price at $19,998
Two very welcoming interiors 
Although the Kia's ground clearance (172 mm) is slightly lower than the Mitsubishi's (215 mm), both vehicles are easy to slide into – so there's no need to waste money on a step plate.
The insides of both these SUVs are in good taste. I found the RVR's driving position a little more comfortable that the Sportage's.
Even though these are compact vehicles, the finish and presentation is impeccable on both.
In either case, five people can fit aboard, but the Sportage is more spacious in the rear. In all, the Kia's interior volume is 2,832 litres, which is slightly more than the RVR's 2,700 litres.
One thing that puts the Korean vehicle ahead of its rival is its superior soundproofing. Although the RVR's soundproofing is far from poor, it does let its engine's indiscretions come through. In terms of comfort, the cloth-covered bucket seats and back bench on the Sportage offer good bolstering, while the RVR's leather seats are much firmer. That said, neither vehicles' bench seats are very comfortable. Storage compartments are plentiful on both, but sadly they are not all that practical. Another big difference between the two is the cargo space:
Kia Sportage: 740 to 1,547 litres.
Mitsubishi RVR: 569 to 1,382 litres.
In my opinion, the Kia's dashboard is a lot better than the Mitsubishi's. I prefer it by quite a bit for its superior design and user-friendliness. Three-quarter visibility and rear visibility is "not as obstructed" in the Sportage. Plus, its rearview mirrors give you a bigger field of vision.
ROAD TEST
Opposing engines
Both vehicles house a four-cylinder engine, but each offers very different displacement and power. The Kia's weight/power ratio is better, as the Mitsubishi is a bit handicapped in this regard.
Kia Sportage EX: 4 L, 2.4 litres, 176 horsepower and 168 lbs-ft of torque
Mitsubishi RVR GT: 4 L, 2.0 litres, 148 horsepower and 145 lb-ft of torque
Even the Mitsubishi Lancer sedan has a more powerful engine (152 horsepower and 146 lbs-ft of torque). That's why the Kia's accelerations and pick-up are more vigorous, even if it does weigh almost 100 kg more than the Mitsubishi.
But with 148 horsepower, the RVR can still meet most of your daily needs. Accelerations and pick-up are acceptable, though the engine struggles and voices its complaints regularly. When you look at the numbers, the RVR's weight/power ratio is off – it would need another 10 horses or at least some extra torque to remedy the problem.
Automatic vs. CVT
The Kia Sportage relies on a six-speed automatic gearbox, while the Mitsubishi RVR comes equipped with a CVT. Both are good transmissions, but the Kia's is somewhat more effective.
Fuel consumption
After a week of test drives, these are the average fuel consumption figures I obtained:
Kia Sportage EX: 13.0 L/100 km (22 mi/gal)
Mitsubishi RVR GT: 11.0 L/100 km (26 mi/gal)
The lighter vehicle, the RVR, clearly has better fuel consumption, despite the fact that it is less powerful. That said, I expected the difference to be more pronounced.
City slickers vs. adventurers
Even though these two vehicles target city drivers, both are able to handle less civilized roads. The Mitsubishi, however, comes out ahead on less forgiving terrain. The Kia features intelligent all-wheel drive, whereas the Mitsubishi has an electronic 4WD system that can go from 2WD to 4WD to 4WD-LOCK with a simple turn of a knob.
The rack-and-pinion steering on the Kia is firmer in the city, while the Mitsubishi's steering is more precise, regardless of where you're driving.
The Sportage's handling is less firm that of the RVR, which is more composed, feisty and dynamic. Both vehicles brake with conviction, but the Mitsubishi is more stable in emergency braking.
The Toyo Observe G-02 Plus winter tires (225/60R17 on the Kia and 225/55R18 on the Mitsubishi) did a decent job keeping up with the demands of these two compact SUVs. They're not the most discreet tires in the industry (especially the 18" ones) but they're effective nonetheless.
STRENGTHS
Kia Sportage
A more eye-catching style compared to its predecessor
More agile and comfortable
Large cargo hold
Mitsubishi RVR
Good-looking lines
Pleasant and dynamic ride
Good fuel economy
WEAKNESSES
Kia Sportage
Heavy steering
Very limited visibility
More expensive
Mitsubishi RVR
Limited weight/power ratio
Smaller cargo hold
Soundproofing could be better
Share on Facebook