2011 Lexus CT200h: A Prius in disguise…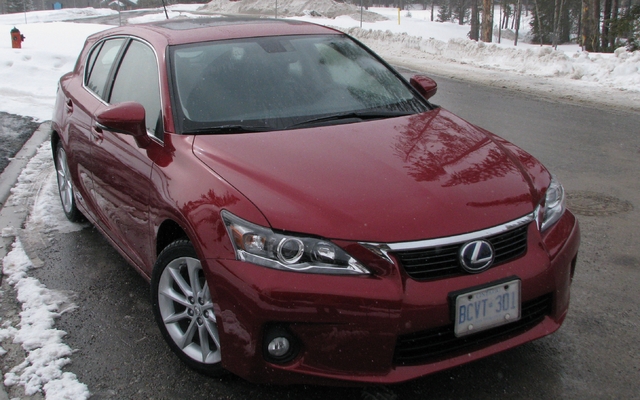 Strong points

Good equipment level in the factory standard version
Nice modern shape
Fuel economy
Very comfortable front seats
Good cargo space for a small car
Very quiet hybrid system

Weak points

Engine lacks power
CVT (without a manual mode)
Average soundproofing
Theoretical fifth seat in back
Very quiet hybrid system
Full report
Underneath that modern, trendy, sportback look, the new Lexus CT 200h (CT for Creative Touring) has a lot in common with the Prius: same engine, same (modest) power, same platform, same hybrid system.Will people be fooled?
First of all, never let it be said that Toyota/Lexus doesn't know how to secure a return on its investment in research and development. The CT 200h is the ninth hybrid in the group and Lexus' fifth. In Canada, this manufacturer accounts for 60% of hybrid sales. Two out of every three hybrids sold in Canada bear the Toyota or Lexus logo.
For this umpteenth hybrid in the family, they wanted to emphasize the reasonable side of the gas-electric model a little less and the trendiness a little more. And they succeeded. We like its nose, which has been enhanced with LED lights, its long, plunging roofline and its pronounced hips. Honestly, its look is more fashionable than the Toyota Prius, and for this reason alone, Lexus might just achieve its dream of 1,200 units per year.
However, behind the great looks there's something familiar: the CM platform is already being used for the Corolla, Matrix, Scion xB, Lexus HS250h and Prius. Apparently this structure has been greatly revised for the CT, in particular for the double wishbone suspension (like the HS250h). The goal was to free up cargo space, and truth be told, with 405 litres behind the rear bench, it's very good. But this double wishbone suspension proves a little too reactive to the road's ups and downs. Are we complaining that a Lexus offers too much communication with the road? Maybe a little...
Otherwise, the braking is honest, efficient and unaffected by its energy recovery system. What's more, the handling is solid and balanced, thanks not only to the car's mass (at 1,840 kg, it's no featherweight), but also to the aluminum hood and hatch that ensure good weight distribution. At most, you feel a little body movement in turns, but it's limited.
Emphasis on fuel economy
Typically, small cars are synonymous with good all-around visibility and easy handling in traffic, and the same can be said here. But unlike other small cars that get bullied by winds, this car stands its ground. The svelte CT 200h didn't back down from the Prairie gusts. However, its low ground clearance (145 mm) means that it will just barely make it through snowy parking lots. We really could have used a proper hand brake for this situation, not to mention the possibility of deactivating the traction control.
It has power steering, of course, controlled by a large steering wheel that feels good in the palm of your hand. It's over-assisted at low speed, but becomes a little more precise as you speed up a bit and, fortunately, it becomes even more precise when the switch in the middle of the console is set to sport mode. There are three other driving modes at your disposal – normal, eco and 100% electric, but the latter is more theoretical than anything. In other words, it's 100% electric if there's enough juice in the batteries and if you can resist the temptation to press all the way down on the accelerator.
Self-control and hybrid technology are fine and dandy, but we prefer the sport mode, which reduces the influence of the traction and stability control, in addition to making the accelerator more responsive. Also, the bluish charge indicator, which isn't terribly intuitive, magically turns into a traditional red tachometer. In this mode, we recorded 6.3 L/100 km on average in the outskirts of Calgary (Lexus advertises 4.8 L/100 km in normal mode). Our numbers were satisfactory considering that there was absolutely nothing hybrid about our driving.
Where the CT 200h sets itself apart is in fuel economy. Its claim of being the most economical (on gas) car in the entire luxury market is truthful, since its direct competitors – the Audi A3, Mercedes-Benz B-Class, BMW 128i and Volvo C30, consume twice as much in town.
A fifth seat (in theory only)
The passenger compartment features the most comfortable and enveloping front seats of any car I've driven this year. There's soft, high-quality leather on option, but the standard material, a new environmentally-friendly Nuluxe, is just as nice to the touch. Only the Techno trim level, (for nearly $40,000, thank you very much) offers the Remote Touch that everyone loves because it's easy to use because of its haptic interface.
It's always surprising to find so much space for passengers in a compact and the CT 200h is no exception – in the front, at least. In back, two adults less than six feet tall will like what they find, but their knees will be somewhat cramped – any taller than that and you'd be risking a stiff neck. And forget about putting more than two adults in the back. Only people born in this century will be able to use the fifth seat.
Underwhelming performances
There's only one regret with the 200h, and it's a doozy: its continuously variable transmission doesn't have a manual mode, which distorts the experience a great deal. Without shifters to take control of the 134 horses (did I mention that it has the Prius' 1.8-litre four-cylinder Atkinson engine under the hood?), the accelerations are underwhelming. As you'd expect, we're already dreaming about a more powerful version, especially since the aforementioned competition is coming out with trim levels that produce 200 horses or more, as in the case of the 230-hp BMW.
In the meantime, you'll have to live with the CT 200h's transmission, which takes a second before it realizes that you want to get moving, and with a gas pedal that has such a short range of movement that you'll be putting it "to the metal" before you know it. Lexus claims that its 0-100 km/hr time is under 10 seconds, but our very rough test gave us a reading of almost 12 seconds.
For your buck
Although the look of the CT 200h is impressive, its performances are too reminiscent of the Toyota Prius to really fool people, unless they're blinded by the Lexus name, which wouldn't be all that bad, since the car offers a good equipment level.
Even the basic version at $31,000 has a power adjustable driver's seat (with lumbar support, I'll have you know), dual-zone climate control, Bluetooth, satellite radio, heated front seats and rearview mirrors, wheel-mounted audio controls, fog lights, and a hatch-integrated spoiler. Even the smart key comes factory standard! You have to admit that you get your money's worth.
Share on Facebook