2012 Nissan LEAF: Hitting the road in California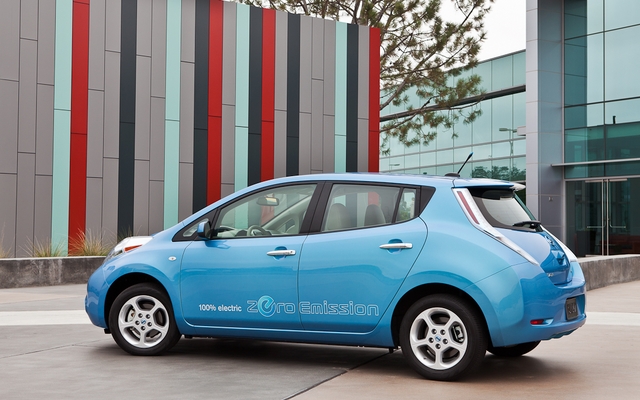 Strong points

No emissions
Pleasant to drive
Comfortable interior
Reasonable handling
Dashboard features everything you need

Weak points

Range still limited
Relatively prohibitive price
Unknown reliability
Full report
Among the more impressive new products to come out in recent months, the Nissan LEAF ranks high on the list. My colleague Gabriel Gélinas was one of the first Canadians to take a ride in this electric vehicle. Then, as the Los Angeles Auto Show approached last November, my other colleague Marc Lachapelle contacted Nissan Canada to set up a trial of the LEAF. Always a team player, he gave them my name too, mentioning that I wanted to better inform my vote on the North American Car of the Year. Nissan answered that the car was available on Wednesday only. Sadly, Marc wouldn't be arriving until the next day. This meant that I would be the lucky one who got to drive the car. Marc's loss was my gain…
Different, but not too different
When you look at pictures of the LEAF, you can clearly see that it's a special car. It was designed for optimal aerodynamics. Yet, it's not excessively different. It kind of looks like a four-door Juke with its front lights popping up. The rear section is bold, but not so much so that it unbalances the vehicle's appearance.
The test car awaited me outside the Los Angeles Convention Centre, just in front of the well-known Staples Centre. Once comfortably in the driver's seat, I found myself looking at a relatively conventional dashboard. True, the indicator dials don't display the same parameters as a conventionally powered car, but the difference is not enough to throw you off. A little like the Honda Civic, the speedometer is encased in a module above the dash, directly in your field of vision. As for the main screen, a thermometer indicating battery temperature is displayed on the left while the other side of the screen features a gauge that tells you how many kilometers you have left on your electrical charge. Above the screen, overlapping rings show how well you're driving.
The central section looks something like a futuristic radio with blue lighting on the controls. Here you'll find the climate control dials, the energy efficiency rating of your driving, and of course a navigation screen. But I must admit that it was my passenger, Ian Forsyth, Vice President of Nissan Canada, who managed all this, as I was focused on driving the silent vehicle.
Los Angeles - Santa Monica - Los Angeles
At Ian's suggestion, we headed to Santa Monica. This route would take us for a stint on the highway, then a side road to avoid the worst of the traffic. Since the LEAF has no real gearbox, the mini shifter on the console is more of a switch than anything else. Slide it forward and zoom, we're off. With 207 lbs-ft of torque, the car took off in a snap, and the next thing you know we were navigating traffic en route to Santa Monica. It was 2 p.m. and traffic wasn't too intense. What surprised me the most at first is that I felt like I was driving a conventional car. The steering was precise, the accelerator had punch and, best of all, the brakes were very responsive, despite their energy recover function. This is markedly different than the Toyota Prius, where you get the feeling that the brakes have given out on you.
On the highway, I realized with surprise that we were doing 80 MPH (128 km/hr), which, in other words, was just keeping up with everyone else. Worried that I would drain the battery, I slowed to 65 MPH (105 km/hr), which I deemed a more efficient speed. During this leg of our trip, I also concluded that the driving position was good, visibility didn't pose any problems, and the suspension was well calibrated. Plus, I discovered the green driving indicator, which I used to try to strike the right balance between speed and power consumption.
It wasn't long before we arrived in Santa Monica and headed onto a side road. Until now, the experience had been very positive. Despite being designed for city use, the LEAF is not out of its element on the highway. It is stable, silent and able to keep up with traffic without a problem. In fact, you have to make a point of not going too fast, as there isn't any audible feedback to alert you of your speed.
It wasn't long before we came to a stop at a traffic light. Obviously, the engine cut, but it did so extremely discreetly. And as soon as I touched the accelerator, the car started up again. The suspension proved to be a little firm as we went over potholes and bumps, and we felt evidence of a rigid platform and low rolling resistance tires. Between one traffic light and the next, I had to resist the temptation to silently gun it. My self-restraint was not just out of concern for the speed limit, but because of the battery. It wasn't fully charged when we started out, and we had already lost a few bars on the display.
The car snaked with ease through the traffic, capitalizing on the responsiveness of its electric engine. By the time we were re-entering Los Angeles, the traffic had gotten considerably denser. In fact, we often found ourselves at a complete standstill. During these stops, Ian Forsyth played with the air conditioning, trying to find a way to keep us cool while limiting power consumption. Advancing at a turtle's pace, I noticed that my driving has become so green, the performance indicator's tree graphic had several branches. Then another tree sprouted, that's how slow we were going. As for the battery charge indicator, it reassured us that the lithium-ion battery was still half-charged. There were just a few miles left before we would be back to the starting point. And, as if to reassure me some more, my second tree suddenly grew another branch.
In terms of handling, the LEAF is exemplary, despite being 100% electric. And, naturally, this powder-blue Japanese wonder attracts a lot of looks. We finally arrived back at the Staples Centre with more than 40 miles (64 km) left in the battery. In total, we had covered about 50 km. These numbers make sense when you consider that the battery had about ¾ of a full charge on it when we started out.
I would buy it
This Nissan is the first all-electric that I would buy without hesitation. With a range of about 150 km, it can go far enough for most family outings. However, given the amount of time it takes to recharge, I would need another vehicle for longer trips. For example, since I live on Montreal's South Shore, a return trip to the West Island would pretty much use up an entire charge, meaning I might not make it all the way back home. Then I'd have an expensive cab ride ahead of me.
That said, Nissan has taken a major step forward by offering this car as a production model. Will the LEAF will be able to live up to our expectations? We'll just have to wait and see. But since it won't come to Canada until the end of 2011, we have time to see how well it fares south of the border. In the meantime, the LEAF is so popular that Nissan is having a hard time keeping up with demand in the US.
Share on Facebook